PSHE/RSE
Intent
During PSHE at Carlton CofE primary, we aim to equip children with essential skills for life; intend to develop the whole child through carefully planned and resourced lessons that develop the knowledge, skills and attributes children need to protect and enhance their wellbeing. Through our lessons, children will learn how about relationships; valuing difference; keeping safe; being the best and growing and changing. Successful PSHE curriculum coverage is a vital tool in preparing children for life in society now and in the future. In order to achieve this, we adapt lessons from the SCARF - in a way that best suits the children in our class. These scheme of work cover all of the required objectives and follow the three core areas of Health and Wellbeing, Relationships and Living in the Wider World. They also fulfil the requirements of 2020 Statutory Relationships and Health Education, setting these learning intentions in the context of a broad and balanced PSHE curriculum.
Implementation:
Our PSHE lessons are planned to be delivered in a creative manner, using many approaches such as role play, discussion and games with groups of various sizes. A safe space Is created with clear rules, so children feel confident enough to share Ideas or experiences. Assessment for learning opportunities are built into each lesson through self-evaluation and reflective learning, allowing teachers to evaluate and assess progress. Each lesson begins with a discussion of children's existing knowledge and experience, providing an opportunity for baseline assessment. Each lesson ends with an opportunity to consolidate and reflect upon learning.
As well as PSHE lessons using SCARF, we have implement the Zones of Regulation which is an approach used to support the development of self-regulation in children. All the different ways children feel and the states of alertness they experience are categories into four coloured zones. Children who are well regulated are able to be in the appropriate zone at the appropriate time.
Teaching the zones gives children a shared language to talk about their emotions by associating them with highly visual coloured zones. The approach is based on research and is highly respected as a systematic cognitive behavioural technique leading children to greater independent regulation. It helps teach children to identify their feelings, their levels of alertness, to understand how their behaviour influences those around them and gives them the tools they can use to manage their feelings.
How does the Zones of Regulation help our children?
It provides a vocabulary to talk about emotions.
It helps children to recognise their own emotions.
It helps children to detect the emotions of others.
It helps them to recognise what might trigger certain emotions.
It helps them to see how others may interpret their behaviour.
It gives them tools for problem solving and regulation.
Why have we introduced this?
It gives children and adults the right words (a common language) to talk about emotions in a way that is non-judgemental.
It is simple for everyone to understand.
It teaches healthy coping and self-regulation strategies.
A person who can self-regulate is able to:
Remain calm in a stressful situation
Cheer themselves up after a disappointment
Know when they are experiencing an emotional overload and adjust
Important things to remember:
There is no "bad" zone
Everyone, including adults, experiences all of the zones at different times and circumstances.
We can't change the way children feel, but we can help them to manage their feelings and behaviours.
You can be in more than one zone at a time.
If a child is in the red zone, you must limit the verbal – this is no longer a teachable moment! Instead, discuss the use of tools when the child is calm and well regulated and plan for when this might happen again.
In addition to SCARF and Zones of Regulation, Carlton Primary School uses the EMR model (Establish – Maintain – Restore) which focuses on the children who it can be most difficult to connect with. These children are the ones who benefit most from a consistent, positive relationship with a trusted adult. The EMR model helps adults to think about the children we work with and the stages of our relationship with each one.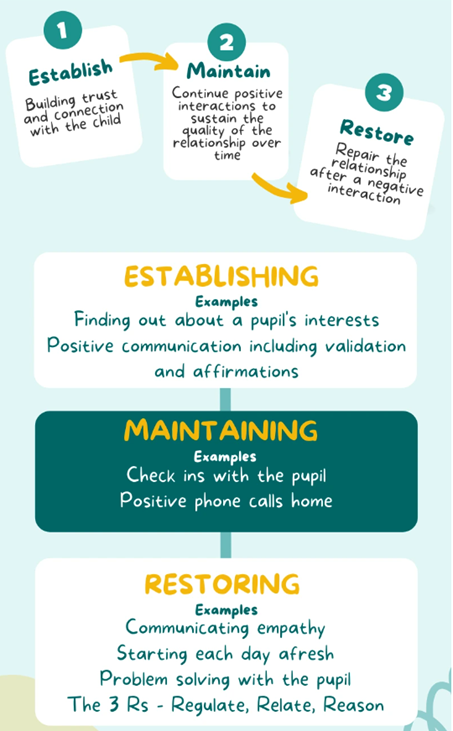 Impact:
Children are enabled to develop the vocabulary and confidence needed to clearly articulate their thoughts and feelings in a climate of openness, trust and respect, and know when and how they can seek the support of others. They will apply their understanding of society to their everyday interactions, from the classroom to the wider community. Through our PSHE lessons, we aim to actively develop a school culture that prioritises physical and mental health and wellbeing, providing children with skills to evaluate and understand their own wellbeing needs, practise self-care and contribute positively to the wellbeing of those around them. Successful PSHE education can have a positive impact on the whole child, including their academic development and progress, by mitigating any social and emotional barriers to learning and building confidence and self-esteem. We also believe that through experiencing successful PSHE lessons, it will benefit disadvantaged and vulnerable children to achieve greater, empowering them with skills to overcome barriers they may face.
Website link to parent page on SCARF: